LuAnn's Homemade Butters & Spreads
Upcoming Christmas Events
Christmas in the Village - Waterford
Fri Nov 18th from 10am to 7pm & Sat Nov 19th from 9am to 5pm
9th Annual Christmas Open House
Sat Nov 26th from 9am to 4pm Location for both events: LuAnn's Homemade Butter Kitchen/Store 34422 High Dr, East Troy, WI 53120 Questions please call - 262-215-2527
Looking for that perfect gift for "the hard to find person", how about a gift box or gift bag full of LuAnn's Homemade Butters and/or Spreads?!?
FLAVORED BUTTERS & AMISH ROLLED BUTTER
Chocolate Honey Butter; Strawberry Honey Butter & Cinnamon Honey Butter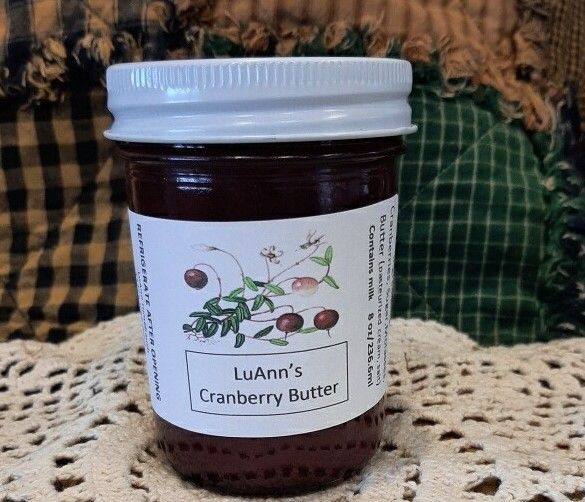 This flavor is delicious on a turkey sandwich or used as a baste on pork chops or a chicken breast. When heated, it makes a very tasty treat on pancakes, waffles,
french toast, bagels, and English muffins.
ALMOST ANYTHING you put butter on.
It sells in two sizes, 4oz-$4.75 and 8oz-$7.50
The flavor and texture of these three butters have been described as "Sinfully Delicious". I have personally enjoyed them on homemade bread and rolls, English muffins, waffles, bagels, and French toast. My favorite for the cinnamon honey butter is on a baked sweet potato and eating chocolate honey butter with pretzel thins!
This list is endless for these delicious butters.
It sells in three sizes, 4oz-$4.75, 8oz-$7.50, 16oz-$13.00
*Seasonal Pumpkin Pie Butter
Seasonal - Available in October & November If you like Pumpkin Pie, you will LOVE this butter! Very tasty on a pumpkin or cinnamon muffin, toast, pancakes, bagels. It sells in two sizes, 4oz-$4.75 and 8oz-$7.50
1# Log - Salted or Unsalted - $7.00
Mixed Berry Jalapeño Spread
Raspberry-Cran Spread; Apple Butter; Rhubarb Spread
These products do not contain butter. They are spreads. Same as the other, very tasty on pancakes, waffles, English muffins, and bagels. Some put the Rhubarb Spread on ice cream as a topping or in plain yogurt. It sells in three sizes, 4oz-$4.75, 8oz-$7.50, 16oz-$13.00
This is my newest spread which contains blueberries rhubarb, and raspberry. Wonderful on EVERYTHING! 4oz-$4.75, 8oz-$7.50, 16oz-$13.00
1# jar- $8.00 / 2# jar - $15.00